Contact Us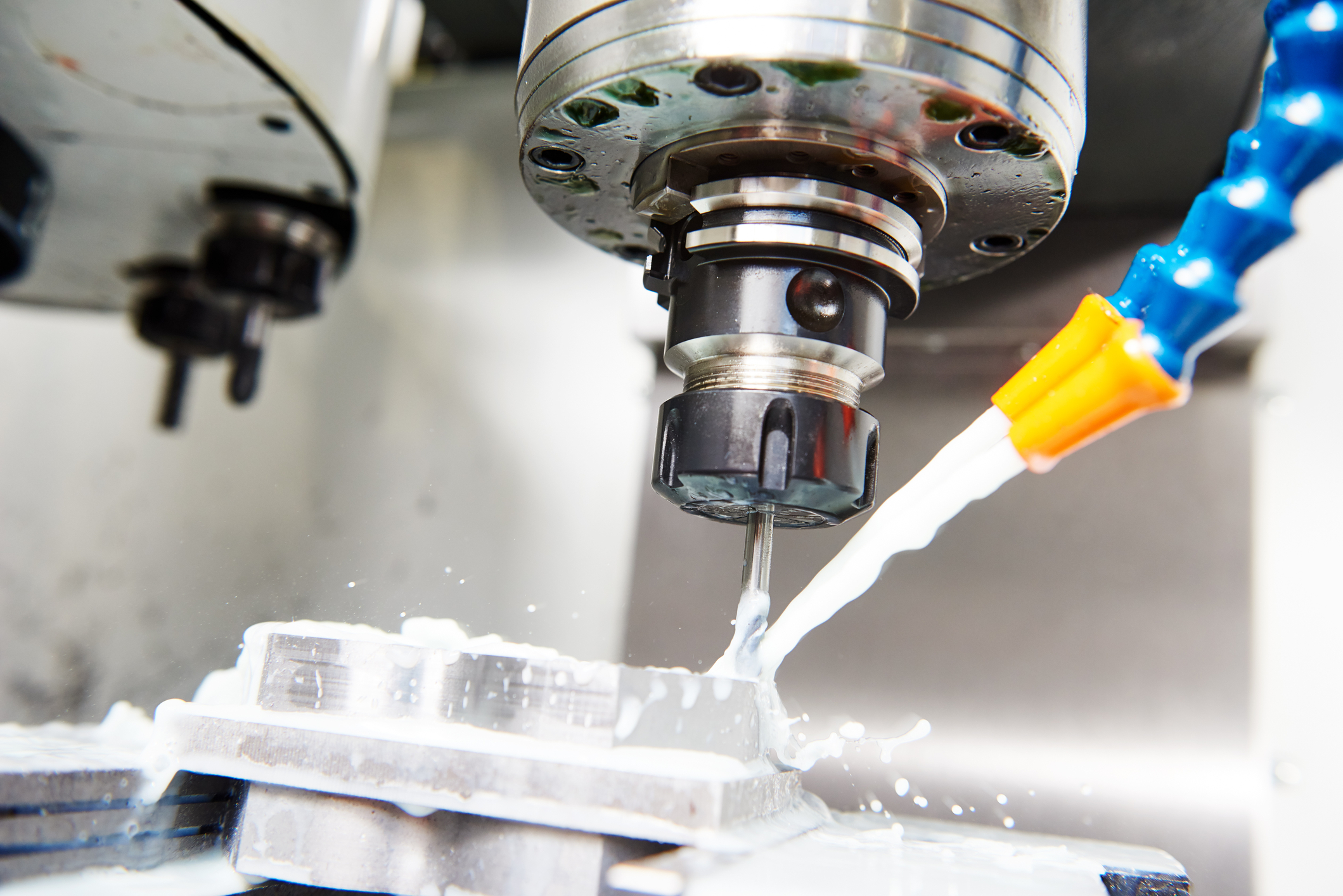 Turn Your Ideas Into Reality!
Contact Product Development Factory today to speak with a CNC specialist about your next project. Product Development Factory's Philadelphia PA engineering team and CNC machine shop service is ready to move your idea into a reality!
You can email us here or call (215) 239-7618.
What Does CNC Stand For in Machining?
CNC stands for Computer Numerical Control. It's a process by which a CNC machinist operates a coordinate measuring machine's cutting tools (a precision machining tool) with a computer. CNC machine shops produce high-precision machined parts using a variety of capabilities, techniques, and methods.
How CNC Machining Works (SM – Subtractive Manufacturing)
Product Development Factory's precision CNC machines cut a variety of materials including plastics, metals, and composites. We run a Haas VF-2YT CNC (computer numerical controlled) Machining Center, Prototrak DPM-SX5P Knee Mill, ProtoTrak 16030SX Lathe, and a Servo Mill with power feed.
Each machine can cut a variety of materials. CNC is a common industrial language, typically used to automate equipment with high-speed cutting, 3-axis, 4-axis, & 5-axis machining centers, milling machines, lathes, routers, and combinations of these technologies.
The workpieces may remain stationary while the cutting tool moves or the tool may remain stationary while the workpiece is rotated and moved, or both the cutting tool and the workpiece may move simultaneously. Depending on the tools available, quality control measures can also be integrated directly into this manufacturing process.
CNC machines are controlled by skilled machinists and machine operators who program tool paths based on the geometry of the finished machined parts. A CAD software (computer-aided design) model provides the part geometry information. CNC machines can cut almost any metal alloy or rigid plastic with great precision and repeatability, making CNC machined parts useful in a wide range of industries including aerospace, medical, robotics, electronics, and industrial.
Benefits of Our CNC Machining Service
With our custom CNC machining service and expertise, individual entrepreneurs and manufacturers will have the ability to expand their services and capabilities to create a greater number of product types at a higher quality than ever before.
PDFact's CNC machine shop services can quickly fulfill your needs simply because of our ability to manufacture and produce high-quality products more efficiently.
Advantages of Working with PDFact's CNC Machine Shop
Product Development Factory is among the best CNC machine shops Philadelphia has to offer and we are conveniently located in downtown Philadelphia PA.
The benefits of working with our CNC shop are endless! CNC machining offers the ability to create new products by offering you cutting-edge technology and unrivaled precision.
Personal Attention and Support
Product Development Factory is the first company on the list of machine shops in Philadelphia, Pennsylvania to offer quality product development production along with personalized attention to detail. Most importantly, PDFact can offer your company the ongoing support and expertise you'd expect from a custom product development service.
All Designing and CNC Machining Done In-House at our Phildalphia Location
It's not uncommon for other machine shops in Philadelphia to subcontract and ship your product off-site to another CNC machine shop. Product Development Factory has our very own onsite CNC machine shop and a team of engineers ready to prepare your product for manufacturing.
We'll provide you with personal service, attention to detail with your idea, fulfill your needs and requirements, and provide expertise whenever possible along the way to ensure your success.
3D Printing vs CNC Machining: What's The Difference?
3D printing is one of today's most popular manufacturing technologies. But, when compared to CNC machining, what are the differences between these two processes?
3D Printing is an additive manufacturing (AM) process by which an object is created by successively adding material layer by layer. In 3D printing, plastic filament (ABS or PLA) is melted and extruded through a small nozzle, building the part layer by layer. The most common 3D printing technology depends on two techniques for layering material: Fused Deposition Modeling (FDM) or Stereolithography (SLA).
3D printing is extremely common for rapid prototyping but falls short when it comes to manufacturing final products. 3D printing is slow which limits throughput and part size. A lot of manual post-processing work is needed to finish a printed part—which makes for a very expensive product.
CNC machining uses rotating tools to remove material to create a part. CNC Vertical Machining Centers (VMCs) are the most common type of CNC machine. They work well on large and small parts. Their table can move up or down to increase or decrease the working height of the part, and they can often turn a complete 360 degrees with four axes.
CNC machining has a high degree of flexibility in the way a part is produced because it allows for easy tool changes. The main difference between CNC Machining and 3D printing is surface finish. Because material is removed layer by layer in 3D printing, it leaves a very rough surface finish whereas CNC machining produces parts with smoother surface finishes.
Because CNC machines have infinitely adjustable tools, there are endless possibilities when it comes to removing material from your stock material.
How CNC Changed Product Manufacturing
The history of metal fabrication is full of incredible inventions, but few compare to the invention of Computer Numerical Control machines. CNC allowed America's manufacturing industry to out-compete every other manufacturer in the world.
CNC machining and CNC milling are now essential to the product development and manufacturing process. These services are used for smaller scale needs and they are also used by massive corporations like Boeing to create components every day.
Brief History of CNC Machine Shops
The first CNC machine was developed by John T. Parsons in 1939, however, it took 40 more years until CNC machine shop controls were refined enough for industry applications.
In the early 1980s, there was an explosion of low cost, high-powered desktop computers that opened up the door for rapid prototyping and 3D machining. Several machine shop operators in the Philly area became quickly popularized.
Growing Demand for CNC Machinists
CNC machinists are in high demand throughout the Philadelphia PA area. Since CNC machining is so prevalent in the milling and machine shop industry, the creation of new products and ideas is exploding.
Product Development Factory is a custom manufacturer located in a Philadelphia based building with an on-site engineering team ready to help make your idea and product vision a reality.
Why Product Manufacturing Grew in Philadelphia Pa
The Philadelphia PA area has a rich history of product development and manufacturing. Philadelphia PA is currently home to over 400 manufacturers, making it the largest manufacturer in the state of Pennsylvania.
Philadelphia's broad range of product development has made Philadelphia PA one of the leading economic regions in the United States. Philadelphia's central location also makes it an excellent place for shipping domestically or internationally via Philadelphia International Airport as well as Philadelphia seaport.
Philadelphia PA is also a great place for product development business and manufacturing due to Philadelphia's proximity to other major population centers in the Mid-Atlantic region, such as New York City , Washington D.C ., Baltimore and Atlantic City. Philadelphia has been one of the top five business cities for patent filings in the United States.
PDFACT continues to add to this statistic, developing many in-house technologies aimed to revolutionize manufacturing processes around the world!
Free Consultations
Would you like to find out how to turn your idea into an actual product? 
Are you in need of production runs using CNC machining?
Email us here or call (215) 239-7618 today!